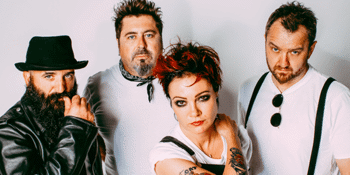 New World Artists presents
The Superjesus - Sydney
with Violetine
Crowbar Sydney (Leichhardt, NSW)
Saturday, 21 September 2019 8:00 PM
Australian rock legends The Superjesus have their hands full lately announcing two new releases on the same day and a tour to coincide. Their first single in 3 years titled "The Impossible" , a super catchy tune about moon landing conspiracy theories and SUMO 20 LIVE – a killer double live album recorded during their massive 20th anniversary Sumo tour . Both are set for release on September 6th. To celebrate they have announced a run of shows in September to celebrate these releases, with support from Violetine. The tour is called 'The Impossible Tour" and will be hitting up Badlands in Perth on September 6, then moving through Adelaide, Melbourne, and wrapping up in Sydney at Crowbar on September 21.

Initially known as Hell's Kitchen, The Superjesus received national radio play with their debut 1996 EP Eight Step Rail and became a festival favourite at Big Day Out throughout the '90s. Their iconic album SUMO reached number two on the ARIA charts, and with a few ARIA awards in the trophy cabinet and their well-deserved induction into the South Australian Music Hall of Fame in 2017, The Superjesus are seriously beloved Australian rockers. Their epic 2018 tour celebrating 20 years of SUMO was a true testament to this, with fans flocking from far and wide to party with The Superjesus once more.

The experienced rockers are more than ready to hit the road again to launch this dynamic live album and their killer new single 'The Impossible". Thrilled to be back in touring mode, McLeod says, "We can't wait to play the new single live, it sounds killer in the rehearsal room! Also, we've dragged our old touring mates Violetine out of retirement for the occasion! We've been big fans of this band since they released Small Speaker Joyland in the 90's. We are very happy that they've agreed to reform to tour with us!"

Fans of The Superjesus had best be quick to secure tickets to these shows – they won't stick around for long.