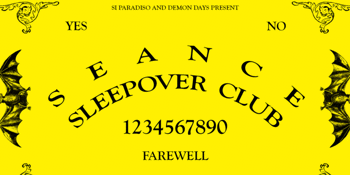 New World Artists and 360 Artist Logistics presents
Séance Sleepover Club Vol II
with Grievous Bodily Calm, Mali Jo$e, Demon Days DJ's, House of Bok DJ's, Nicole Filev & Bexx
Si Paradiso (Highgate, WA)
Friday, 6 September 2019 8:00 PM
After a massive first edition Seance Sleepover Club is back for round 2.
Amphitheatre stage sets by
Grievous Bodily Calm
MALi JO$E
Demon Days
DJ's
House of BOK
DJ's
Lounge sets by
Nicole Filev
BEXX
Plus introducing Lucifers Lounge. we've got late night live jamz by a bunch of people who will play good music to keep your legs moving plus from 8:30-9:30PM we've got an immersive Goosebumps book reading by
Jacob Diamond
with music by
Joshua Chan
(Demon Days) and maybe some of his pals?
Last time it was busy as! Get tickets early and make planz.